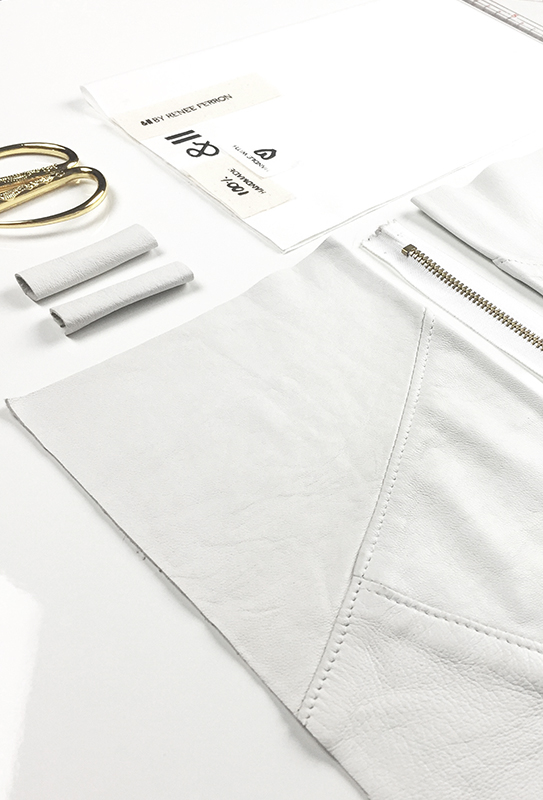 &II PIECES: 'I used to be a dress before we met'
'I used to be a dress before we met'
The leather of this pouch is thrifted at the 'noordermarkt' in Amsterdam during my study at the amsterdam fashion institute many years ago.
The graphic seams in this pouch are the original seams from the pre-loved dress it used to be.
Keep your bag organized with some make-up , or use the pouch at night time during a party.
100% handmade andpause labels are at the inside of this pouch, + recognizable &II side tap at the outside of the bag.
With the images below we show you how we made the leather pouch from the leather of a pre-loved dress.
Ingredients used while making this pouch:
– The leather of a leather dress (the dress was big.. really big, so i'll have a lot of leather to use! 😀 YAY!)
– Zipper with metal teeth
– Cotton lining
– Handprinted &II labelling
– A portion of patient and loads of love for the product.
– Sewing machine
– Matching yarn
– And of course… Coffee!
All Ingredients of the pouch
Cut the lining fabric & sew the sideseams
With custom labelling in it!
Stitch the zipper onto the leather…
also the end of the zipper + leather stroke for nice finishing
Nicely finished zipper end.
Stitching the lining onto the leather
like this…
and this…
with labelling inside!
Finished &II Pieces leather pouch




For the ones who really payed attention to the pictures and the finished product in the shop:
Yes! i changed the labelling. My 'i used to be a…' labels where not finished yet while i made this pouch. So i changed them afterwards.
Thanks for reading! – Renee.